George Fowokan Kelly is a Jamaican-born, British-based visual artist who exhibits under the name Fowokan. His self-dictated training is voluntary and in keeping with his vision of the arts, which is rooted in the traditions of pre-colonial Africa and ancient Egypt rather than in Western Greco-Roman art.
Known primarily in the field of sculpture, Fowokan is also a photographer, poet, essayist, and musician. The primary motifs of Kelly's practice are naturalistic portraits, but he also introduces forms that reference Africa and its diasporas, depicting characters from its cultures and histories. Materially, he favors dark, metallic and earthy materials, which give character and presence to his figures.
In the work of today's African artists, we must see the eyes and hands of the contemporary artist, looking again, not but through the prism of an African aesthetic, speaking in a new world with the voices of the ancestors; voices so long silenced; in so doing, their art will offer new generations the opportunity to look at themselves again, to see themselves differently.

Georges Fowokan Kelly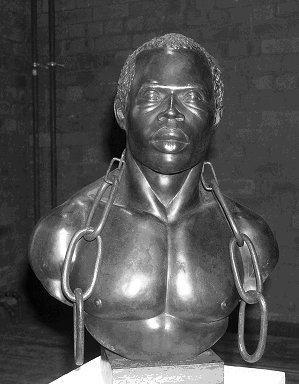 ---
Keep up to date with Fowokan Kelly's work >
Did you like this article? Tell us in comments!
TAG :
#Caribeart #CaribbeanArtist #Caribbean #Jamaica #Art #Sculpture #African #Afrocaribbean #History #Materiality #Sculpture #Clay #Metal #Diaspora #BlackArt #Blackartists #Culture #Creativity #Art #Artistes #Artist #Digital #Blog #Magazine #Mag #Webmag #New #English